Jan 31st, 2017
Author:
donich_admin
The hill just between Lochgoilhead and Cnoc Coinnich is called "The Steeple" although it is not very high at 378m (it's a nice little climb with good views but a bit muddy and pathless). I was told by a local once (well I am a local now – but I mean a long time local) that if there was snow on the Steeple it meant there would also be snow on the Rest and be Thankful. On reflection this seems odd as the highest point of the B828 is 298m and the A83 is 269m at the pass. Perhaps this takes into account the fact that the Steeple is nearer the salt air from the Loch.
Anyway – there was a sprinkle of snow on the Steeple yesterday but none on the Rest so not sure how true the story is. I checked this by looking at the webcam on trafficscotland.org which seems an altogether more reliable method.
It was very cold in general yesterday but some nice views to snowy hills.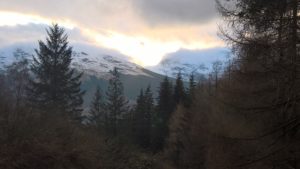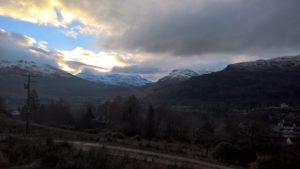 Unfortunately today was much warmer but so dreich you couldn't see whether the snow was gone off the mountains or not. I guess it mostly have as the Donich is in full spate at the moment and the waterfalls are a sight to see.