Mar 22nd, 2017
Author:
donich_admin
I took a wander up the Duke's Path towards Coran Lochan today.  The weather was superb, although cold and snowy and the views were first rate.
Obviously no one had been along the path since the snow fell; no one human at least although I saw lots of animal tracks (mostly deer and sheep).
This one was a carnivore.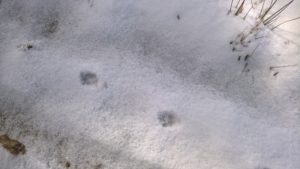 In the evening the views to the mountains were quite superb – one of the best sunsets I have seen since we have been living here.