Mar 1st, 2017
Author:
donich_admin
Sunday here was absolutely dire of course as my brother and sister in law were visiting.  We toiled up to the waterfalls but it was pretty dismal in driving rain and with pretty high winds.  V took a few jars of frog spawn away to "seed" their new wildlife pond.
Then of course Monday was a bit better and yesterday and today were pretty spectacular.
This was the view just after dawn on Monday with a little mist still hanging about.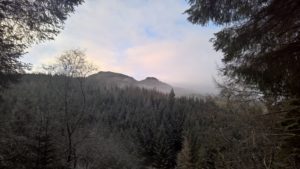 Yesterday (Tues) we woke to a sprinkling of snow, but by afternoon it was very clear and bright.  Here is the "Rock of the Britons" on the slopes of Beinn Donich in the bright sunshine.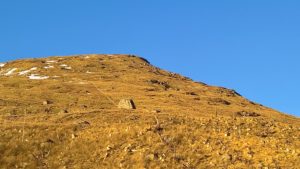 And here is Cnoc Coinnich in the distance.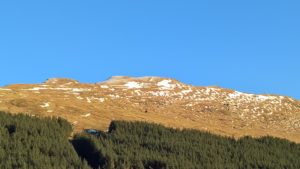 In the evening there were thousands of stars and a very thin but bright crescent moon.  The owls were hooting away in the trees and as I walked through the kitchen at about 8pm I glimpsed a pine marten shnarfing down some nuts.  Not for the first time I thought about what a wonderful place to live this is.