Feb 24th, 2017
Author:
donich_admin
I can't make up my mind whether spring is here or not. Thick snow all over the mountains from about 200m today and going up the path to Beinn Donich the snow was so thick on the path that I wished I had put my new crampons on because it was seriously slippy.
But down at house/loch level the daffodils are struggling into bud and a few crocuses are coming out around the front door (they have a struggle to survive because the squirrels keep nipping their heads off).
A hundred miles south of here where my Mum lives, spring has definitely arrived as per the photo she sent me this morning.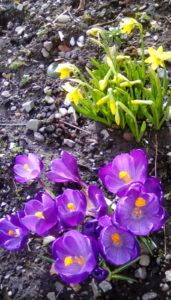 But here in the highlands winter lingers a bit longer – it is not unusual to see snow on Bheula at the end of April.