Feb 21st, 2017
Author:
donich_admin
Going up to the waterfall the other day we noticed that there was frog spawn in one of the pools by the side of the path. Strangely this particular pool always seems to get the frog spawn earliest – and the first year we were here I got my feet soaking wet filling a jar with it to put in our pond. Little did I know that our pond gets filled with the stuff without needing any human intervention.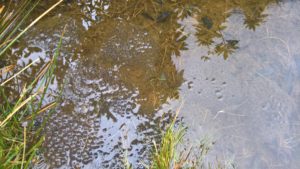 Then today I met one of the originators of the spawn by the side of the path.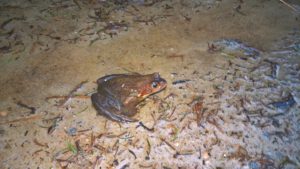 A large frog or as we call them a "slimy". I touched him to make him jump off the path in case someone trod on him and he hopped off into the ditch. Normally I love seeing the heron on the pond, but at this time of year I feel terribly sorry for the poor frogs getting swallowed up just as they are mating – so I am thinking of putting a flag next to their trysting place in the hope it will deter the heron.