Feb 12th, 2017
Author:
donich_admin
It seemed a nice morning today and R and I set off early to climb Cnoc Coinnich. Although the MWis (mountain weather forecast service) said it was going to be windy – there was zero sign of it at loch level – in fact it was very pleasant and spring like.
About two thirds of the way up to the bealach between Cnoc Coinnich and the Brack we hit the snowline and it started to get very icy and slippy (at this point we saw a lovely fox crossing the path not far above us). Then we crossed out of the trees and on to the hillside and all of a sudden we were in very wintery conditions and the wind hit us like a steel blade. At this point with the wind at about 35 mph we decided that rather than climb the mountain we would just cross the pass (which is about 520m at its highest) and then walk home via Artgartan and the Rest and be Thankful.
This is the conditions and me in the conditions.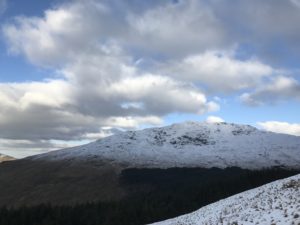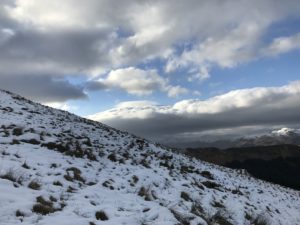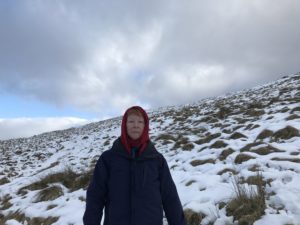 We climbed higher and the wind grew stronger and colder – even so I was enjoying myself at this point. Suddenly we came over a ridge near the high point of the bealach and the full force of the wind hit us. R who was going first was nearly blown off his feet and the snow and ice drove straight into our faces. As though as one, we simultaneously made the decision to turn back.
We got to the woods and descended by the waterfall path. At 300m the wind was down to a breeze and the sun was shining – it was literally almost impossible to imagine how horrible it was 200m higher up. So just goes to show that even at lowish altitudes the Scottish mountains in winter are definitely worthy of respect.