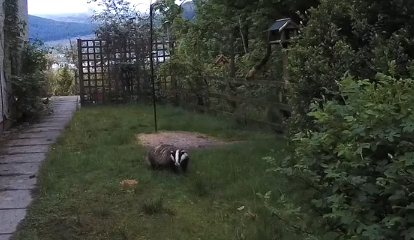 May 24th, 2016
Author:
donich_admin
We have a new webcam with better resolution.  Unfortunately this means that we are having difficulty getting it to activate for the wildlife – and at the moment we are largely getting photos of the cats on their nocturnal wanderings.
But yesterday we got a nice shot of a badger – unusually this time it was in the daylight – around 5am.  I actually think what tripped the camera was the large crow you can see in the foreground.
Click on the image to see the video.