Dec 20th, 2015
Author:
donich_admin
That is my tree all decorated and the presents wrapped.
I also got my Christmas cake iced. The ready made fondant icing you can get these days really is a boon to people like me who are useless at icing cakes. When I was a child it was always royal icing which was exceeding difficult to get smooth. So my Mum always iced her cakes as a sort of 'snow scene'; which basically means roughing the icing up with a knife blade so that you don't have to try to smooth it out.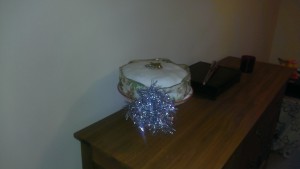 I see from my Fitbit that I have walked 7000 steps or nearly three miles around the house today doing all this plus general cleaning up. Probably just as well as the weather is so vile today that R and I didn't get our walk, and I see a couple of weeks of excess calories coming on.