Dec 29th, 2014
Author:
donich_admin
It is R's birthday today. I won't say which one – but as we have been together for twenty years come 2015 it would be fair to say that he may now be considered middle aged. There also may be a clue in the picture of the bottle of wine which I bought for him last year.
I hope you have a great birthday and a happy year ahead R….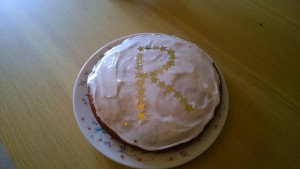 The R on the cake is done in stars because R is my star (and also to be honest because I forgot to buy candles).