Dec 27th, 2020
Author:
donich_admin
Afraid I haven't posted for a while but I am going to get back into it now. I've not been very well and those total idiots in the government gave me a huge extra piece of work to do.
Basically I had booked a lovely little lodge at Drymsynie for my parents and brother. At one day's notice they changed one set of foolish regulations into another and Drymsynie had to close. Luckily I was in the position of being able to put my guests up here but it is not easy because although it is actually a six bedroom house, three of them are set up as offices. So getting the lodge meant not having to move a load of beds and furniture around. The other problem with this house is that my father is blind and with it being a bungalow there is one long corridor with loads of anonymous doors off it.
So after a day of back breaking work I got the beds done, clean linen, towels, bed side tables and lamps etc. I also had J sleeping in my office.
So I had a choice of roast beef or roast pork with all the trimmings for boxing day, after which the guests would depart. Then, again right at the last minute we heard that they were closing the OMR at 3:30pm so we had to make do with broccoli soup and roast beef sandwiches.
So not the best Christmas ever but better than most peoples' I'm sure.
There were some good bits though. N did a Japanese feast on Christmas Eve with some very impressive Sushi.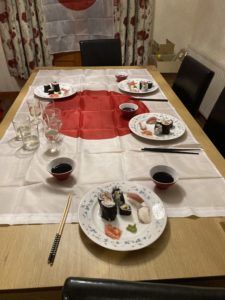 This was our Christmas table. The crackers came from Etsy and each one had the person's name on it.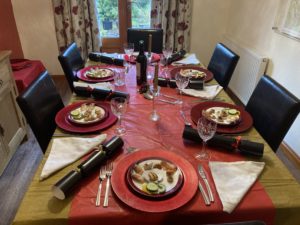 And of course R got more whisky for his collection.