Mar 30th, 2020
Author:
donich_admin
My sourdough culture has been up and running for over a week now and is doing well.
He has had several children and I am using the name convention for storms for them. So we have had Loaf Angela, Loaf Barry, Loaf Douglas and yesterday – Loaf Edith.
I've found the bread to be very tasty, but rather dense compared with bread raised with conventional yeast. Having said that – I am still playing around with different ways of making it, and I think the original recipe I was using had too little flour in it and was therefore so soft that the dough spread out like a pancake. So with Edith I used 400g plain flour, 300g sourdough cluture 250ml water, 10g salt and 1 tsp sugar. She seemed to ball up and rise well – but I think I took her out of the oven a bit soon as R was waiting for his lunch and I am sure Paul would have said that she was under baked.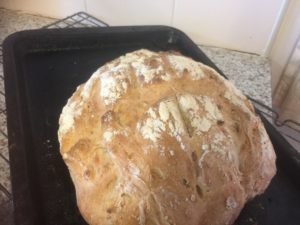 R had lentil soup with Edith yesterday. When we finally managed to get a couple of orders through, I bought 12kg of lentils from Amazon (not because I am hoarding but only because that was all they had) and 2 big packets of carrots from ASDA. So I cooked it up in my biggest pot and we now have 12 portions to be going on with.