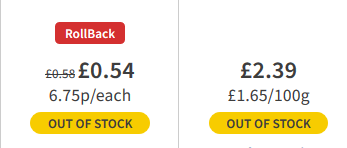 Mar 7th, 2020
Author:
donich_admin
I won't get started on this virus crap as personally I think it is a storm in a teacup. People these days have become so very risk adverse that I can't imagine how they would get on if they were translated back to the Second World War and had to continue with their daily activities with bombs dropping all around, all the young men in the army and severe rationing.
But anyway, I am not a medical expert so I won't comment on that part – but I have noticed is that due to the artificially induced media panic over this "crisis" slots to get ASDA orders here are becoming difficult to get at my usual 48 hours notice – I had to bump it up to 72 hours in advance. Also it is clear that long lasting foodstuffs like dried pasta are going out of stock – when I ordered yesterday there was virtually no supply of bulk pasta and various other things. You could still order the more expensive brands in 500g packets – but forget 3Kg bags of ASDAs own brand. This is very unusual.
Anyway – business as usual for me, and btw for my 90 year old father who lived right through the war and has never had a day's illness in his life. They made them tough then.