Feb 15th, 2020
Author:
donich_admin
R and I had been supposed to be repairing the shed roof today but with the weather the way it is, it is just not possible. We have had gale force winds and torrential rain since yesterday.
The river is really really high and after lunch we took our life in our hands and walked down to where the Donich Water meets the River Goil. This was the Donich itself next to our little wooden bridge….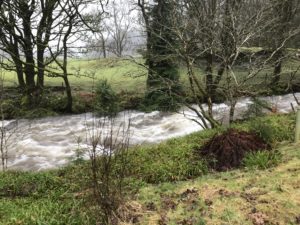 All along the bank where there are trees which are normally on dry land, they were in fact half submerged.
But the biggest telling point is the junction between the two rivers – if it is like the following picture you can pretty much presume that the weather has been pretty extreme.