Dec 15th, 2019
Author:
donich_admin
I've noticed that 1970s/80s food seems to be making a comeback. Actually as far as I am concerned, it has never gone away.
N and J are coming over today and we are having prawn cocktails for lunch (note that there are only three as R will not touch anything with prawns in it).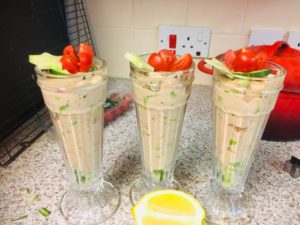 Then this evening we are having another old fashioned special – coc au vin with mashed potatoes and petit pois a la francais
I sent my vegan Christmas cake off to my sister in law the other day. It looked pretty nice once it was iced – in fact indistinguishable from the normal one with butter and eggs. I suspect it won't taste as good though – but perhaps with all that brandy soaked fruit in it you wouldn't be able to tell the difference.