Dec 4th, 2019
Author:
donich_admin
There is going to be a food bank for the Cowal area with some pickup points around Lochgoilhead. I think it is a crying shame that people would not have enough to eat at Christmas. Although I am pretty well off now, I went through a bad patch about 30 years ago and ended up living on benefits for a while. I never exactly had nothing to eat, but things were pretty tight and I remember at one point having precisely 11p in my purse to last me until the next day.
So I have a lot of sympathy and understanding for people who have nothing at this time of year and I have made a "Christmas in a Box" for the food bank. It has about everything in it – a cake, crackers, chocolates, biscuits, veg, and a big tinned ham. Unfortunately nowhere could I get a tinned turkey! It also has Prosecco, red wine and a bottle of Bailey's Irish Cream.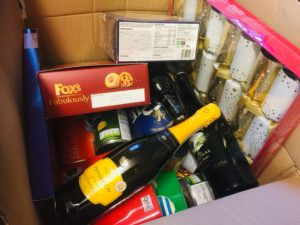 I'll drop this off a bit closer to the time – really hope someone enjoys it.