Sep 8th, 2019
Author:
donich_admin
R and I are off for a visit to the Lake District in a few weeks time. We will be climbing Scafell Pike and a couple of other peaks and visiting some of the places I knew well as a child. This was our house between Egremont and Whitehaven taken from Google as it was relatively recently.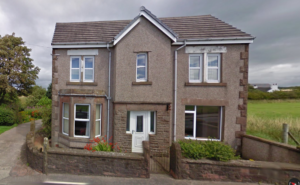 It was a great place to live with a super garden – called Beech House because of a massive tree in the garden which unfortunately came down in a storm in 1982. When we went out the next morning to survey the damage, the huge tree had come down so hard that it had hit a fence post like a pile driver and driven it straight into the ground.
Behind the house was a stream and then an old disused railway line where we used to go to get brambles. Our cat Kitty used to accompany us on our expeditions – very unfortunately the only drawback to this house was that it is on the A595 which at the time was the main route to the Sellafield Nuclear Plant and was massively busy so Kitty was killed on the road one morning. She was quite old and had lost the sight in one eye after a rat bite so I suppose she could not really manage the traffic that well any more. She was definitely my Mum's "one person" cat and used to bite my Dad every night when he tried to move her out of the lounge into the breakfast room where she was supposed to sleep at night. He would always say "Now Kitty, don't bite me" and then she always would.