Aug 23rd, 2019
Author:
donich_admin
We've had a few interesting visitors recently.
Firstly, four large wood pigeons have turned up early in the morning and have learned how to get the seeds out of the feeder which is just supposed to be for the little birds.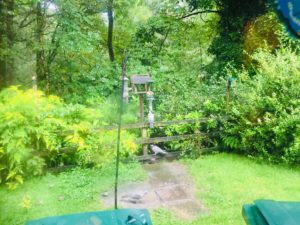 I don't have the heart to move it to where they can't get it, so doubtless we will need to swallow the cost of the seeds.
However this gentleman might help us out. He is a sparrowhawk and the other day he sat on the fence for several hours trying for chaffinches. They seemed to know he was there and weren't that bothered as they went on getting their seeds from the feeder – but with a wary eye out.