Jul 30th, 2019
Author:
donich_admin
I had a rather mixed day yesterday. I was meeting my Mum, N and J to go to the newly set up "Mackintosh at the Willow" Tearooms in Sauchiehall Street. These are in the location of the original tearooms designed by Charles Rennie Mackintosh for Miss Cranston.
Firstly the A83 was as bad as I have seen it yet again. Those roadworks seemed to have been completed in one area, but have broken out again further down the road. Then got to Helensburgh and met Mum to get the train into Glasgow. We got to just outside Dalmuir and although nothing was apparently wrong with the train, suddenly there was an announcemnt that it was terminating there and we had to catch another train from platform 3. We were running ourselves short of time at this point, and everyone else seemed to be getting on another train going from platform 5. Once it had departed we realized it was going to Motherwell and as we weren't 100% sure it stopped in Glasgow we got off in Partick and took the underground. I could have taken this in my stride if I had been on my own, but my mother is not great on her feet since she broke her femur.
So by the time we finally made it to Buchanann Street we were very late. We started to walk up Sauchiehall Street and met N coming the other way. Now the key thing to bear in mind here is that there are two sets of Willow Tearooms in this area. I had the one we had booked (217 Sauchiehall Street) in Google Maps but N said he had already found it. I was a bit surprised that it was so close but took him at his word. So we went into a department store where apparently these tearooms were on the third floor. There were lifts, and transits through clothes departments and then other lifts. Eventually we got to the tearooms and I said "We have a reservation for the Salon de Luxe" – the lady said "We don't have a Salon De Luxe." Turned out we were in the wrong place and the new tearooms were another 200m up the road. I shot down the stairs and ran up to the other tearoom – it was a dreich but sultry day and by this time I was pouring with sweat.
The tearoom itself was fantastic – every detail correct for the period (or at least as far as I could tell).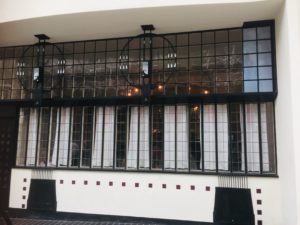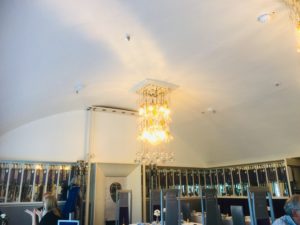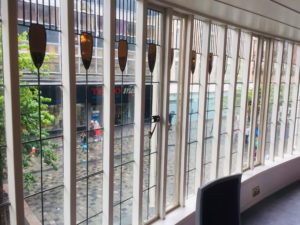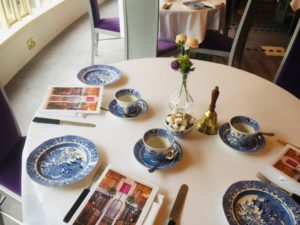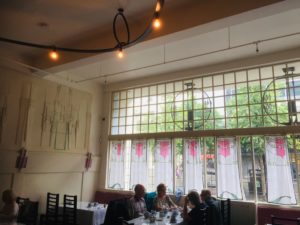 We had the "gin and tonic tea". It was all very fancy but quite pricy – in the end for four of us it was £120 plus tip.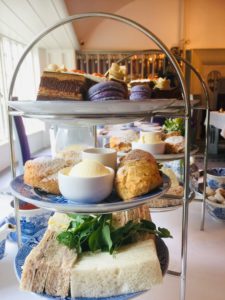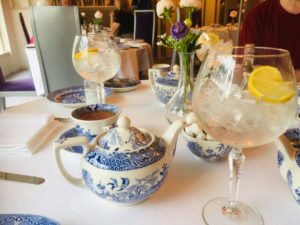 The only thing I would say against the place is that when we went back downstairs there was a gift shop (with excruciatingly expensive prices) and an exhibition about Miss Cranston and the creation of the tearoom at the back. We went to go in and were informed we needed a £5.95 ticket each to get in. I would have thought that if you had already paid for the tea you should get the exhibition for free. We didn't have a lot of time so we didn't pay for it.
On the way back to the station there was a nice mural where the old Victoria Night Club had been. Some Cats!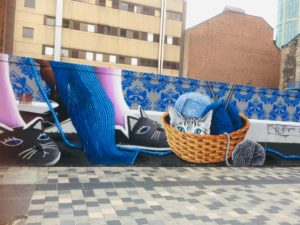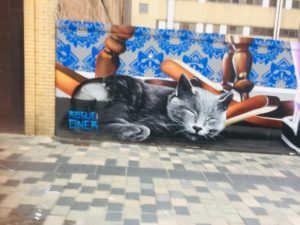 Then on the way back the bus was mobbed with very loud tourists. So a nice day but not without problems.