Jul 4th, 2019
Author:
donich_admin
We've a large pond in the garden. It is fed by a small stream and I am constantly worried that it will stop running – I've no idea of where it draws from or what we do if it stopped. Yesterday I noticed that the flow had stopped, and I had to manually top the pond up from a hose. So today I had to go and dig the stream out. Not the most pleasant task in the world – it is pretty cold today at about 14C so not that many midgies, but clouds of them seem to appear at unpredictable intervals.
I strimmed right round the pond, trying to avoid any wild flowers and then then dug all the vegetation and silt out of the steam. Just as I was starting on the final bit, I was attacked by the midgies and had to come in, but luckily by then I had the stream flowing again. Tomorrow I will have to try to get all the debris that got into the water during the excavation process out with a net.
I did, however, get my first fruit of the year. The cherry tree has been stripped so I had to make my Mum and Dad a pie with cherries from ASDA – apparently it was nice.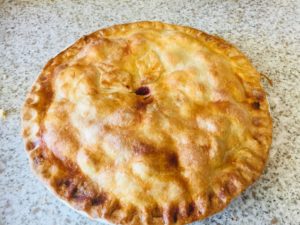 But the blackcurrents and strawberries are doing alright. I made some tartlets today – I had more of them than I should and R tolerated eating one of them (unwillingly).