Apr 23rd, 2019
Author:
donich_admin
For reasons best known to himself, J got up at the crack of dawn today, so we walked to the station and caught an early train to La Coruna. They have the strangest system of buying tickets here in Spain – you seem to have to specify both the outgoing and returning train. I don't see how you are supposed to know in advance what train you want to come back on.
While we were waiting for the train we had "Churros" a sort of Spanish doughnut. I was surprised at how much I liked these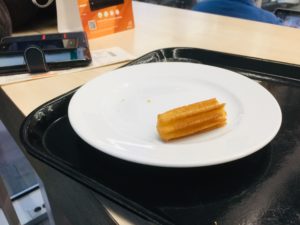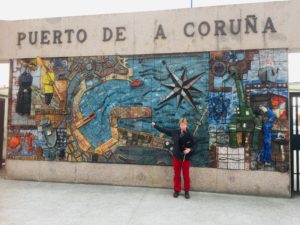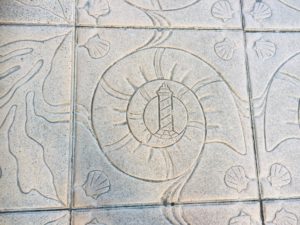 We walked over to the old town via the port. There was a huge cruise ship in and we had a surreal conversation with a lady waiting where the passengers were disembarking.
"Would you like to come on our Bus Tour of La Coruna?"
"No thanks"
"Well perhaps you would like to come on the tour of Bilbao tomorrow?"
"Thanks but we will be in UK tomorrow. We have already been to Bilbao"
"But the ship is going to Bilbao tomorrow"
"We are nothing to do with the ship – we are just walking through the port"
Much laughter was had by all……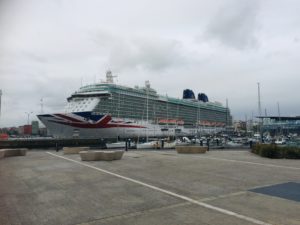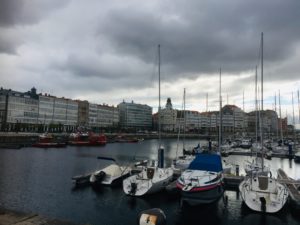 We then went to the grave of Sir John Moore which is in a nice little garden. He reputedly asked to be buried where he fell and this is what the famous poem "Not a drum was heard nor a funeral note etc." is about. I had been going to buy some flowers for his grave but they don't seem to do flower shops in Spain.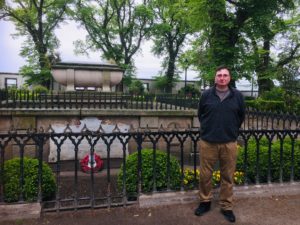 After that we went to see a nice little military fortification with some intresting Roman remains, and then to see an army museum which was largely about the penninsula war and the battle for Coruna where Sir John Moore died.
The plan had then been to walk the mile and a half over the pennisula to look at the "Tower of Hercules" which is the only Roman lighthouse still in production use. Unfortunately, by the time we came out of the museum it was pouring down and blowing a howling gale. We retreated into a bar where they had some nice tapas which came free with each drink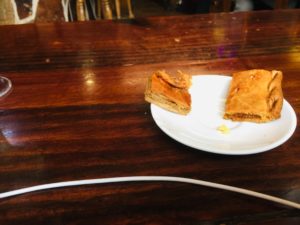 Unfortunately after an hour there was no sign of the rain receeding so we needed to give up on the lighthouse. Even so by the time we got back to the station we were soaked through.
Up mega-early to fly home tomorrow. I've really enjoyed the holiday but I can't say I will be sorry to see Donich Lodge, R, T and S again.