Apr 22nd, 2019
Author:
donich_admin
Today we were both exhausted after all our exertions so we decided just to do a little exploring of Santiago and leave La Corunna for our last day tomorrow.
We went on a ride on a little tourist train to explore the city – sadly it does strike me that outside the old town they have made a bit of a mess of Santiago – there are a load of buildings which aparently were designed by famous architects but just look like nasty concrete cubes.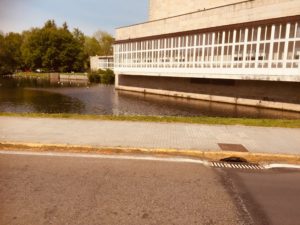 We were supposed to be going to the Parador des dos Reis tonight but I had another look at the dress code and it was smart casual which I didn't think any of our pilgrim garb qualified as! We went into the building itself which is beautiful (I think the 20th century could learn a lot about architecture from earlier ages). Most of the internal areas were blocked off with chains and signs saying "Guests only". If I had some better clothes I would have tried to bluff it out.
So we went back to the apartment and I cooked a nice meal of seafood pasta with some interesting tapas from the supermarket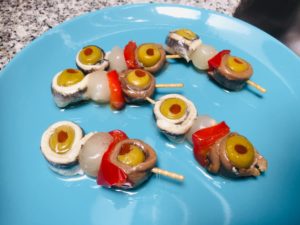 Then I went out and had a little walk round the city to buy some souvenires.