Apr 14th, 2019
Author:
donich_admin
This morning I went to early mass in the Cathedral of Leon. I don't think I would actually have found it without the help of a young Mexican pilgrim I met in the square outside as it was in a (spectacular) side chapel. He was getting a bus to Sarria today, so perhaps we will meet him again during the course of the week.
Today is actually Palm Sunday and most of the people of Leon seemed to be out in their best clothes and equiped with palm fronds. The preparations for Holy Week are well in hand – this shop window display of "Play people meet the KKK" amused me.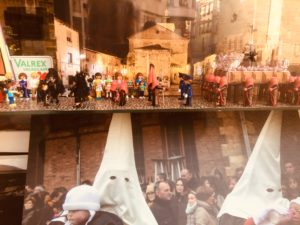 J and I walked along the river side through an enormous market and eventually arrived at Plaza San Marcos where there is the famous statue of a tired pilgrim. I took a photo of J next to it – he always looks tired these days too.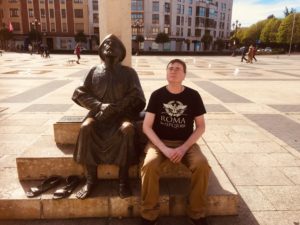 To my surprise the church of San Marcos was open and we went and had a look round.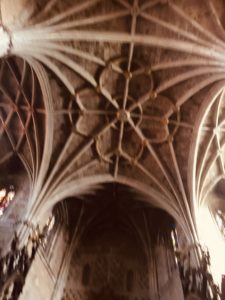 This afternoon we had a spectacular drive out to Sarria. The town itself is rather boring and modern, but we are up in a little enclave in the hills. Our rooms are spectacular, all undressed stone and wooden beams. I suspect it may be a a bit noisy though as there are large numbers of pilgrims milling about just outside the window.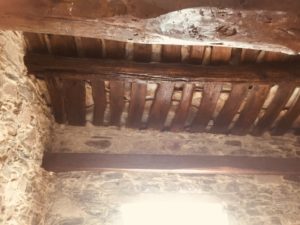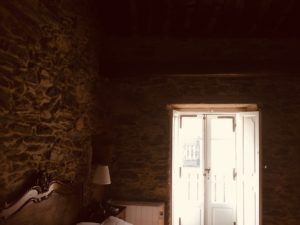 J and I went for a walk up the hill to look around.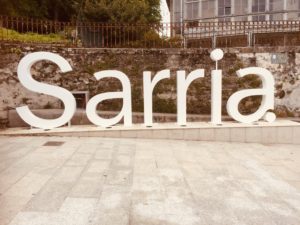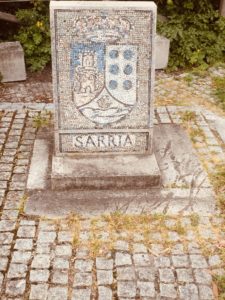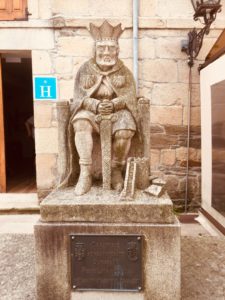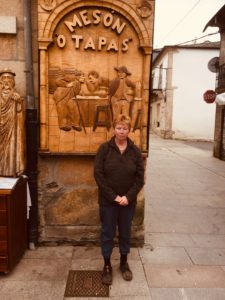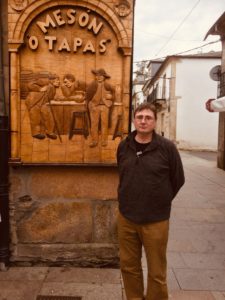 We then had the pilgrims' menu at a little restaurant across the road. This time it cost 9E for calimari, chicken and chips, ice cream and a whole bottle of wine. Amazing.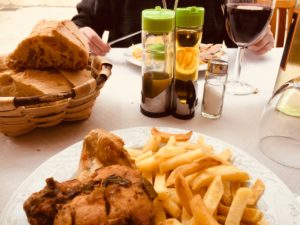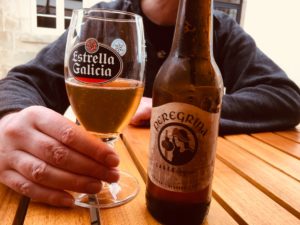 Note that the beer in the picture is called "Peregrina" which denotes a female pilgrim.
Back on the walk tomorrow heading for Portomarin.