Dec 11th, 2018
Author:
donich_admin
I've been wondering for some time now about the mysterious present R was getting me for Christmas. This evening he set off for "destination X" and told me he would be back in two hours. He'd wanted to take a sheet with him and mentioned that he was worried it wouldn't go in the car (this is bearing in mind we have a large Landrover which will take a small wardrobe in the back).
Anyway the present has turned up – an enormous wood sculpture of a Heilan' Coo – the sheet was to stop her damaging her horns in the car. I've decided that she is female and called Heather. We got her out of the car with difficulty as she must weigh more than I do and I put some tinsel and nice lights on her. Here she is in all her glory.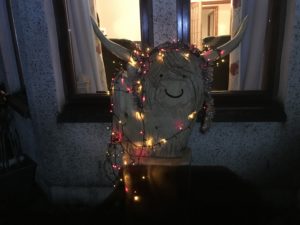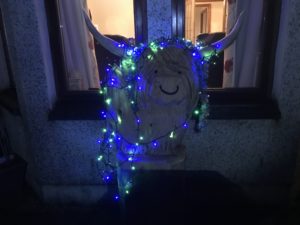 Also I put my tree up yesterday and am starting on the rest of the decorations.