Oct 22nd, 2018
Author:
donich_admin
As we come up to the spooky time of year I did some investigation into what was an iconic item in my childhood – "Spooks Biscuits".
You would have to be a certain age to remember these as they were around in the mid 1970s, but they were brightly coloured biscuits with five different colours and five characters associated with them – green gremlin, lilac loonie, orange ogre, red devil and yellow peril. Every pack you bought, you got a different sticker with one of the characters on it. Unfortunately however many packs we bought, we never seemed to get a yellow peril. So eventually we got a pack with – horror of horrors – no sticker in it at all! So we wrote to the company who made them to complain about this, and much to our delight they sent us six full sets of the stickers, including the elusive yellow peril.
I couldn't find the original stickers anywhere on the Internet, although I did find a black and white advert for the biscuits which had versions of the original characters.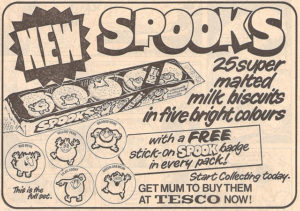 I've tried to recreate them as they would have looked at the time.


Of course being a bit of a compulsive baker – I also tried to recreate the original biscuits. They tasted quite good but I think I slightly overcooked them which impacted the colour a bit.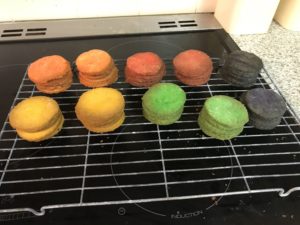 We will eat them at Halloween.