Aug 8th, 2018
Author:
donich_admin
R and J and I went for a long walk along the Dalriada Heritage Trail near Lochgilphead. This starts at Carnasserie Castle, goes though Kilmartin, past a load of Neolithic cairns, crypts and stone circles, crosses a nature reserve and then Dunadd, the ancient hill fort which was the capital of Dalriada where the first kings of Scotland were crowned. I was particularly interested in this part as it is the scene of part of one of my favourite books "Mark of the Horse Lord" by Rosemary Sutcliffe. After Dunadd the path continues for another 4km before joining the Crinan Canal which is another of my favourite places.
This is the ruined castle and the view from the top. J refused to go up.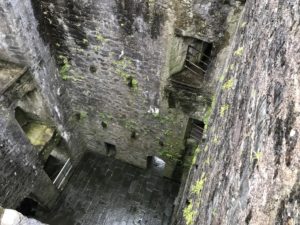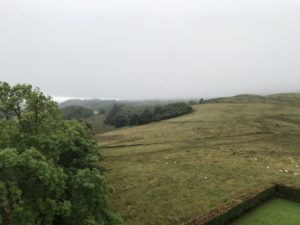 A carved medieval grave marker at Kilmartin church.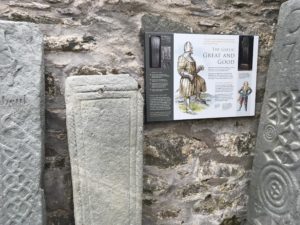 Some Neolithic ruins. These all had boards next to them with some rather optimistic artists impressions of what they must have looked like when they were in use.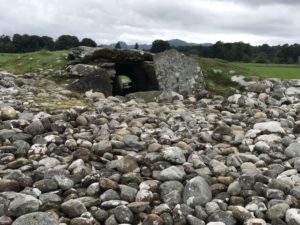 R had to leave the car at the canal and walk back the other way to join us because the walk is linear and if we had had to walk back it would have been 40km in total. As we got to the nature reserve we met a disgruntled R who had opened his packet of cheese and ham rolls to find out that I had muddled the picnics up and he had J's salmon and cucumber. He says he doesn't like salmon or cucumber but it didn't seem to stop him eating them.
Here is Dunadd in the distance.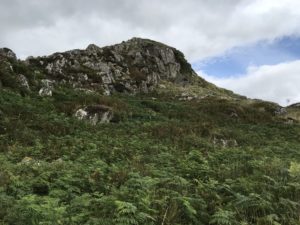 Some views from it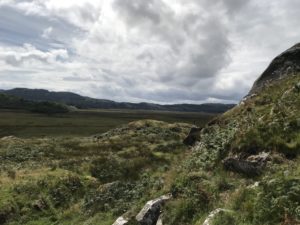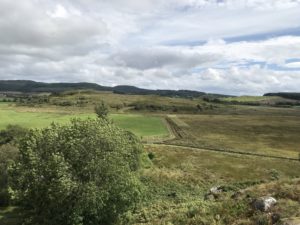 The cleft which would have led into the fort proper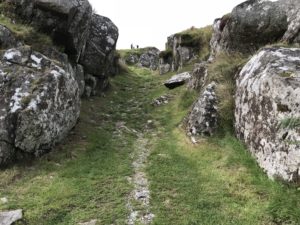 The famous footprint used in the coronation of the King. I didn't know this, but apparently the stone of Scone was reputed to have been here after it was Jacob's pillow and before it went to Scone to be stolen by the English.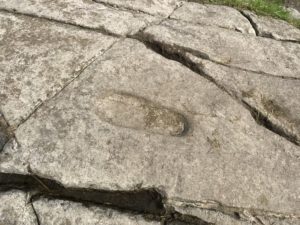 I have been trying to induce R and J to read the horse lord book, but sadly neither of them are deeply in to reading fiction.