Jun 8th, 2018
Author:
donich_admin
My friend J and I went for a day out in Helensburgh earlier this week. The weather was brilliant, and after we had had lunch at Cattle and Creel (very good food BTW)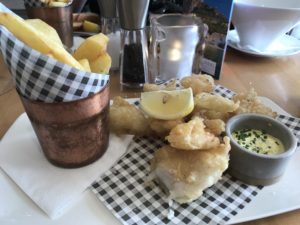 and I had had my hair cut, we reconvened in the Clyde Bar on the seafront.
This didn't look that salubrious from outside, but inside there were a load of interesting old newspaper cuttings pasted all over the walls and ceiling, many of which appealed to J who is a fan of punk music.
Anyway we went out to the very nice beer garden at the back, and it turned out they had an unusual accessory – a very handsome tortoise. I haven't seen one of these since I was a child in the 1970s where there were loads of them around – mostly with the number of the house they belonged to painted on their shells. Unfortunately at the time they were treated incredibly cruelly – imported in boxes piled up on top of each other with 90% of them dying before they reached the UK. This tortoise seemed in great form – although I had to keep reminding J not to put his feet down too hastily in case it was under them.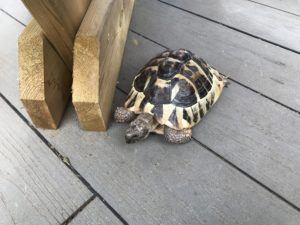 I put my hand down to stroke it and I must look a bit like a lettuce leaf because it had a really good nom on my finger. I didn't actually realize they had such sharp beaks. Anyway – I didn't mind. Nice food, nice drink, nice garden, nice reptile, nice day 🙂