Jan 25th, 2018
Author:
donich_admin
My Mum and I went out for lunch in Helensburgh the other day and I noticed that the parish church door was open.
We popped inside and what a lovely building – the stained glass was quite spectacular – particularly the window commemorating John Logie Baird the inventor of television who came from Helensburgh. The window was commissioned by his widow.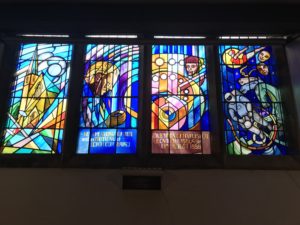 There were other beautiful windows as well and in general it was a very lovely church. Not sure why it is not more famous.