Dec 12th, 2017
Author:
donich_admin
As anyone who reads this will know we have been deeply frustrated by our lack of Internet access since we moved in here. Basically we have been paying an awful lot more money for an awful lot less data than we got in Livingston for an awfully long time.
But I have to give it to R who has persevered against all odds and has finally managed to orchestrate FTTP (fibre to the premises) access to our remote house. Over the high pass at the Rest and be Thankful, miles down a single track road, and then down a forestry commission track. Finally over the Donich water. I must say that I have been very annoyed with the lack of accountability and general unpredictability from BT Openreach in the past – but I was very admiring of the individual engineers who turned up during storm Carolina and worked all the way through it to get things completed.
So right out here in the back of beyond we now have 300MB downstream and 30MB upstream (speedtest.net is not quite up to being able to capture the full speed).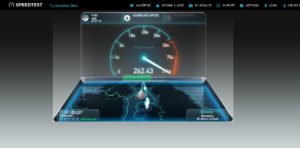 Well worth the connection charge (a lot by the way) to anyone who really values their Internet access.
Cheers R!