Nov 18th, 2017
Author:
donich_admin
I've not been quite as organized as I might have been this year – largely due to pressure of work. I suddenly realized this week that Christmas was creeping up on me and I had done nothing.
So during the course of the week I've ordered a few presents and some food – and today I made a Christmas cake for myself, and one for my Dad who is very partial to them.
For years I made the Delia Smith one, but it always seemed to come out dry and overcooked (as does the turkey if you cook it for as long as she says in her Christmas book). Of late, I am a convert to Mary Berry and I made her cake this year.
This was the fruit marinating in brandy for three days – it smelled gorgeous.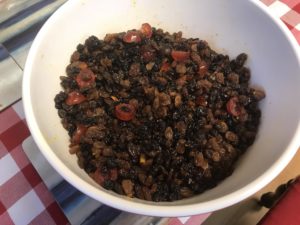 Unfortunately my high tech digital scales gave up the ghost halfway through and I had to guess all the weights of ingredients – but luckily many years of experience have made me good at doing this. I did however order some old fashioned analogue scales.
I cooked the cakes for just under four hours (the recipe said 4 to 4.5 but my oven is a hot one) and they have come out beautifully (or at least they look nice – hope they will taste good too). Now they will be wrapped in foil and 'fed' with brandy for a few weeks until it is time to coat in marzipan.