Oct 24th, 2017
Author:
donich_admin
Weather now greatly improved. Sunny but not too hot at around 18 degrees. This would have suited R fine though unfortunately he is back in rainy Argyll looking after the cats.
In the morning we went up Vesuvius. Personally I would have climbed it from sea level, but I don't think that considering J's performance on the hill up to the villa he was going to be very keen on that. In fact I was rather surprised I got him up there at all as he is terrified of heights. The wind up on the summit was very fierce and we heard of at least two people who lost their glasses. Luckily J did not as he is blind without them and it would have ruined the rest of our holiday.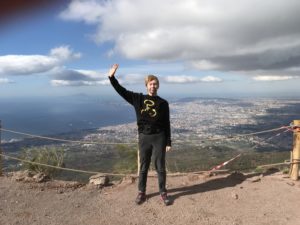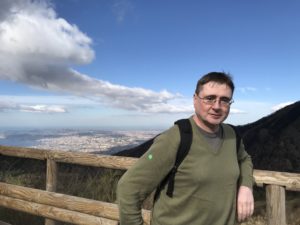 Then in the afternoon we went to Herculaneum which was great. It is actually better preserved than Pompeii, with several buildings having three stories. The saddest part is the bodies of about 300 people who were trying to escape off the beach and were killed by poisonous gasses. I can't help thinking it would be good for their bodies to be buried according to their own rites after all these years.