Jun 24th, 2017
Author:
donich_admin
Today was our last full day and actually the weather was significant worse (or at least cooler – not sure R would call that worse) than the rest of the week.
In the morning we went to Interlaken – not sure why it is so popular as it is rather 1960s concrete looking and completely over run with tourists. It is, however, paragliding capital of the world, with dozens of them circling over the town like over-sized sycamore seeds.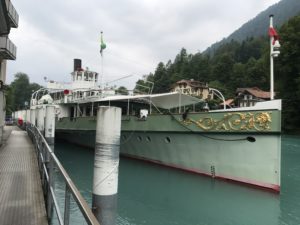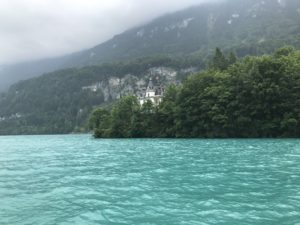 Then we went on a trip on Lake Brienz on a 1920s paddle steamer – echoes of the Waverley – and then in the afternoon we went to a museum of rural Swiss life and met some interesting goats, pigs, chickens and ducks. Actually the highlight of the day was feeding some very tame sparrows with croissant crumbs from our plates.
Home tomorrow, and although looking forward to seeing the cats again – I am actually sorry to be leaving Switzerland. Beautiful, clean, great walking, fine public transport and 4G – what more could you want – and no midgies.