Jun 23rd, 2017
Author:
donich_admin
Our second last day (sob) and at my parents' recommendation we went to Zermatt to see the Matterhorn. This was another journey you wouldn't approach lightly in UK as it was three hours on four different trains. Of course, it being Switzerland, everything went entirely according to plan and we arrived right on time. The last train was a scenic little one, and we nearly got to be in the news when a woman opposite us came close to losing her phone and her hand leaning out of the window taking photos. We got some first views of the Matterhorn which is truly spectacular.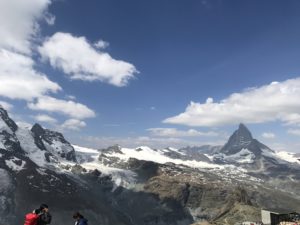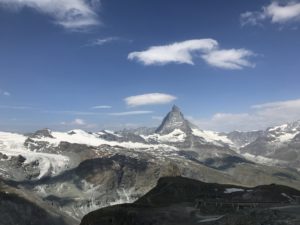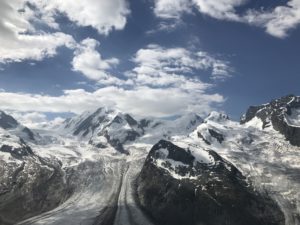 More great views from the top and we nearly bought a novelty bottle of kirsch with a miniature Matterhorn inside it for J – but didn't as it was over £100 and R rightly pointed out that the mountain was using up the space for the alcohol!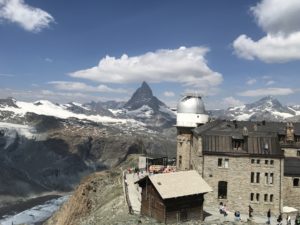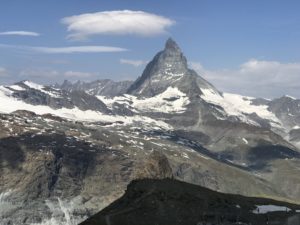 Then we walked back down to Zermatt. There were some great sheep and lambs with curly coats and bells which studiously ignored us and some nice alpine flowers.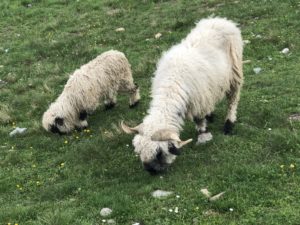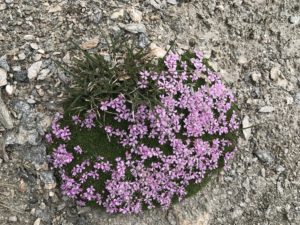 We had lunch at a restaurant with possibly the best views in the world – also their rosti was better than my efforts, then back to Zermatt. A pretty little town but very, very touristy – actually I prefer Meiringen which has some life of its own aside from being a resort.