May 25th, 2017
Author:
donich_admin
Hard to believe what a change there has been in the weather since yesterday.  Last night about 8pm I took this picture at the top of the Tam A'Cheulig walk.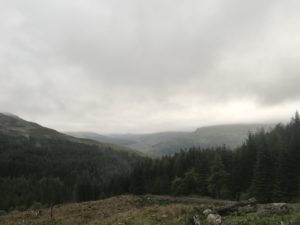 The cloud was thick and solid around 250m and I couldn't even see the top of the Steeple, let alone Cnoc Coinnich.
And then around lunchtime today, the weather suddenly cleared over the course of an hour and it turned into a hot, sunny and glorious day.  Tonight on the same walk, the views back to the village and over the mountains were clear and beautiful.
Back home, I saw the first dragonfly of the year and the waterlillies are just coming out.  I also noticed that the cherries are setting on the trees and the strawberries have their first green fruit.  Oddly (and welcomely) there are not many midgies so far.