Feb 14th, 2017
Author:
donich_admin
R got me some lovely romantic Valentine's Day presents. First I got a box filled with red heart balloons (and "I love you" at the bottom of the box) and then later in the day, a lovely bunch of red roses and some very moreish chocolates.
Here they all are on the mantelpiece – hopefully with the balloons out of reach of claws.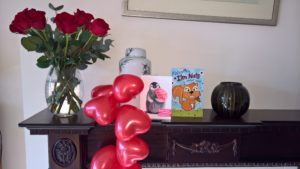 My presents to R were a trifle more prosaic – he got a nice bottle of single malt and then a special dinner of burgers and fries (sadly his favourites).