Feb 6th, 2017
Author:
donich_admin
My Mum was clearing out her attic the other day and found some old friends of mine carefully wrapped up in a shoe box. These were Mrs Bun and Baby Bun, Mrs Ted and Baby Ted, and when I was a child, I played with them until they were nearly worn out. Even so, these were hand-made, and things were obviously made to last a bit better forty odd years ago – because even after all those years in a damp attic they were largely ok.
So I gave them as much of a restore as I could manage. They are way too old and frail to go in the washing machine, but they were stinking of damp and their clothes were all mildewed. First of all I gently dried them out for a day or two. Then I thickly dusted them with bi-carb and thoroughly brushed it off to remove the smell. I then took warm water and some non-bio washing liquid and gently cleaned them all over bit by bit with a toothbrush. I ironed the skirts of their dresses using some lavender laundry spray to remove any residual odour.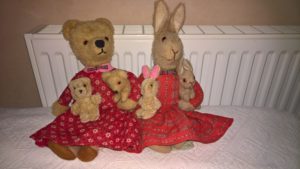 Finally, I removed their (once white) felt collars and bows and made them new ones – a pink collar for Mrs Ted and a green one for Mrs Bun. They also got new tartan bows (believe me these were a pain to make). I also mended Mrs Bun's unmentionables (pantaloons) and Baby Bun's tail. Apart from being a bit threadbare they are now as good as new and can join the other toys on the spare room beds. While I was at it, I also repaired the ears of another little rabbit I found in the same box – I don't remember his name (or the one of the teddy that was with him), but they were obviously well-loved as the ears of the rabbit had been very inexpertly patched by me aged about eight.