Dec 23rd, 2016
Author:
donich_admin
I made this Christmas Pie yesterday – it is Paul Hollywood's "Leftovers Pie" which is supposed to be for using up any leftover turkey, stuffing, sausages etc. This was done in advance though because I am very concerned about storm Barbara which is supposed to hit us over the festive period – and specifically about the possibility that we will have a power outage on Christmas day. At least this will give us something nice to eat if this does happen.
The pie was what I might describe as 'a bit of a faff' to make. I'd never made hot water crust pastry before, and it is odd to work with – like a sort of combination of short crust and choux but having to be worked when warm rather than keeping it cold. But it seems to have turned out very nicely – crisp and brown all over with never a soggy bottom in sight.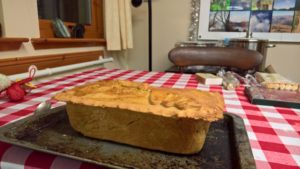 Let's hope we don't need it for Christmas!