Dec 6th, 2016
Author:
donich_admin
V and A came to lunch and I had another go at a vegan low-carb meal with rather mixed success.
Starter – humus, guacamole, olives, crudités – so far so good.
Main Course – aubergines stuffed with lemon infused quinoa and pine nuts. Saffron roast potatoes. This was ok – the lemon didn't really take in the quinoa for some reason (it was my substitute for couscous as lower carb) and the saffron potatoes were basically just potatoes because the saffron I bought online had zero flavour. So all in all a bit bland.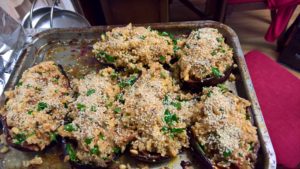 Desert – "no cook vegan cheesecake" – hmmm… This came from a book "Keep it Vegan" which has a lot of nice recipes in – but this one took things too far for me. It had three layers – the base made out of pecan nuts and dates, then two layers (raspberry and vanilla) which were cashew nuts, first soaked and then processed to a cream. According to the book this should be done in a blender – well not my blender which gave up the ghost immediately. So I blitzed them in my food processor, but the texture was all wrong – so I ended up pushing the mixture through a sieve. This made me feel like a 1920s kitchen maid, took ages and seemed to dirty every dish in the kitchen. I eventually decided to turn the vanilla layer into chocolate because it had an unpleasant colour as well as an unpleasant texture. Even so, I wasn't happy with how it turned out and half of it ended up in the bin… It looks nicer in the picture than it actually was – mainly because of the nice soft fruit which I picked off and ate before I threw the rest away.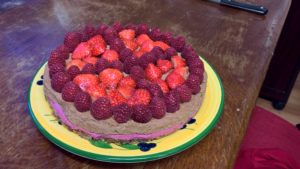 Mince pies – these were good made with vegetarian mincemeat and the pastry with half Trex and half vegan margarine.
Biscuits – these were a low carb recipe which I made vegan by replacing the egg with egg substitute. Basically they were almond flour, coconut and cocoa but I won't hand out the recipe because they were horrid – really dry and with the appearance of little turds. Nearly all of these ended up in the bin – I wouldn't inflict them on the birds.
So all in all I have to say that I don't think trying to make these meals is a winning deal – basically however hard you try the food ends up sub-standard because you are trying to achieve the impossible. Next time I am going to do either vegan or low-carb but not both….