Nov 20th, 2016
Author:
donich_admin
R and I went to a wedding in Milton Keynes this weekend – one way and another it did not turn out too well from a travel perspective.
I'm not a big fan of low cost airlines or low cost airports so it was only with difficulty that R persuaded me to fly with EasyJet down to Luton.  Things did not go well from the start as we were herded (literally) onto the plane and then left sitting on the runway for nearly an hour while they de-iced it.  Presumably they knew it needed de-iced before they boarded us and could have left us sitting in the (comparative) comfort of the terminal.  Then we arrived at Luton.  When I first visited Luton on family holidays in the 70s it was little more than a shed on a runway and over the years I've seen it develop into a large and reasonably swish airport.  The last time I'd been there was a few years ago now, but I wasn't expecting what we saw.  Basically they seem to be pulling the entire place to pieces and reconstructing it, and it reminded me of nothing less than Mumbai airport on a bad day (the toilets were particularly disgusting and there were thousands of people milling about in a small space).  Trying to get to our prebooked taxi was also a nightmare as all the roads were up and there were concrete blocks everywhere.
By the time we finally got to Milton Keynes it was after 10pm and I was saying to myself over and over "Never again".  So after the wedding (we had a nice time and I even managed to get R to dance with me) I took the decision that we were going back on the train.  We would catch the 9:30am from MK Central and it would get us in to Glasgow at 2pm (why we didn't think of this in the first place I don't know).   Advance first class tickets were also available – so it wasn't even that expensive.  R agreed but made it quite clear that he would take the blame for the flights going wrong – but that if I wanted to go back by train – I would be the one who was taking the rap.
All went well at first.  We got into an almost empty first class carriage and relaxed in peace as the countryside shot by us at speed.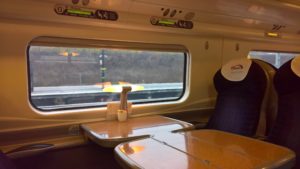 Soon we were in Crewe, and there we stopped and waited, and waited and waited.  After about 15 minutes they (Virgin trains) announced that the service was cancelled due to a power failure on the line ahead.  They then moved us on to the Edinburgh service which was sitting at another platform – the reasons for doing this are entirely mysterious as the Edinburgh train was due to take exactly the same route as the Glasgow one, so I would have presumed that an outage affecting one would have affected the other as well!  I suspect that the explanation given was not true and there was a commercial reason for cancelling our train.
Anyway, by this time we were an hour late and managed to get seats on the Edinburgh service which was stuffed to the gunnels as it now contained the passengers for both services.  A hard faced unpleasant couple took the seats facing us and she talked on her mobile phone about property development constantly – thank heavens for the noise cancellation headphones.  In spite of the delays, the journey was incredibly lovely at this point as we were crossing Shap (pass through the Lake District hills) and the countryside was white with snow and sparkling in the sun.   I tried to take a photo out of the window but it didn't really come out.
Then we arrived in Carlisle where we were told to change trains back on to the next instance of the Glasgow service!  I took the opportunity to take a photo of the Whitehaven train which is the one I used to take to school as a child – it hasn't changed a bit in the last 20 years which says more for nostalgia than it does for investment in rail infrastructure!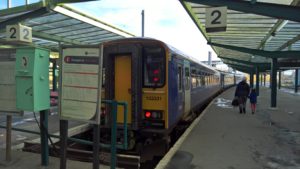 We eventually got in to Glasgow an hour and a half late – I have formally admitted to R that this was my fault – but I still think it was a more pleasant trip than Luton would have been.  I just don't seem to be lucky with travel – ironically the only company of late which has managed to get me to and from my destination with no delays at all is Ryanair – go figure.