Nov 7th, 2016
Author:
donich_admin
Had quite a nice trip home from Venice.  R and I went for a farewell walk around the city which was both nice and sad (because we were leaving).  Everything seemed new washed with the rain which had fallen overnight, and outside the main streets there was virtually no one about.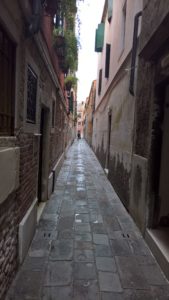 We said goodbye to the hotel and the little street it was off and went back to the airport.
The lounge at Marco Polo is a bit blah compared to (say) Heathrow, but at least there was somewhere comfortable to sit with no screaming babies.  Soon we were flying back over the Alps – and very scenic they were too.
Unfortunately – this was where the nice part of the holiday came to an end.  We had a nightmare crossing London from Gatwick to City to catch our connecting flight.  First we tried a taxi, but after sitting in it for half an hour, going about 500m because of the traffic and realizing that we would miss the flight at that rate, we gave up and braved the Underground luggage and all.  Bearing in mind that this was not during the rush hour, it was the busiest I had seen it – and squashed into a corner with people leaning on me – the Orient Express seemed a far off memory.  But three hours later (!) we made it to the airport where I had an excruciatingly expensive glass of wine (£16).  The airport was mobbed too.
But then we were home in the peace and quiet of Lochgoilhead.  This has been the best holiday of my life and I am so grateful to R for taking me.  I will remember the wonderful train and the food and the piano bar and Venice itself for the rest of my life.
But it is nice to be home too.