Nov 6th, 2016
Author:
donich_admin
Today we went out by boat to see the northern part of the lagoon.  Unfortunately we didn't realize that the boat does not always go to the same stops and we therefore had a moment of panic when we realized we had gone to Triporte rather than Torcello which had been our original destination.
So we went all the way to the end of the run and then came back to Burano – I can't help thinking they must have thought we were nuts.  Burano was very pretty with its multi-coloured houses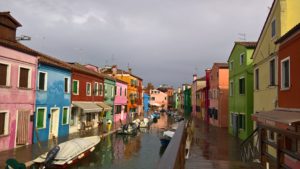 We managed to walk all the way around Murano looking at about 100 glass shops but not buying anything.