Nov 3rd, 2016
Author:
donich_admin
The way the Orient Express works now is that you leave from Victoria Station, but the train you board is actually the Belmond Pullman, which takes you through to Folkestone. From there you have to transfer to a coach to go through the Eurotunnel, after which you join the Orient Express proper in Calais. The reason for this is that the historic coaches aren't certified to go through the tunnel.
So R and I got up at our usual 6:30am and went to transition our 'hold' luggage from our cabin stuff (you only take the stuff that you need for one day on to the train as the cabins are small – the rest of your bags go straight to your hotel). With a horrid shock we realized that in the last minute struggle to pack the bags, we had somehow left R's dress suit trousers behind. What to do? We had a quick look on the Internet and noticed that M&S in Waterloo Station opens at 7am – but would they sell black tie kit? We quickly walked over there (in fact it was a beautiful walk over the Jubilee bridge with some cracking views down to Westminster) and shot in to M&S at 7:45. We located an exact pair of dress trousers in two minutes and shot out at 7:50. I thought this was rather strange behaviour on our part, but the assistant didn't bat an eyelid – I'm sure there must be stranger things that happen in central London. But good old Marksies saved the day….
So we had a nice breakfast, but were a bit disappointed to discover that like most chain hotels it was a standard help yourself buffet. When I last was in the Horseguards in the 1980s – the individually cooked breakfasts were stupendous. Then we went and checked in for the train.
I hadn't known quite what to expect from the British Pullman, but in fact it was magnificent.
Each carriage is individually designed and named, and we were in carriage Gwen, which is the newest addition to the fleet, and used to be on the "Brighton Belle". We went and looked at all the carriages and actually thought Gwen was the nicest, with beautiful Art Deco design. The loos were particularly impressive, with a genuine mosaic of a beautiful swan on the floor, a marble washbaisin, and mahogany fittings.
We were served with Bellinis, and then brunch. First pastries, then fruit salad, and then finally scrambled eggs with smoken salmon, mushrooms, a toasted crumpet, and caviar! It was all absolutely delicious – and R even ate it all (except the caviar).
When we got out in Folkestone there was a 1930s Jazz Band playing for us on the platform, and loads of people there to take photos of the train. It actually brought tears to my eyes…
Then we went on the coach for a while before we joined the Orient Express itself. All the staff were lined up on the platform in their brass-buttoned uniforms next to the famous train logo itself.
Our cabin is the height of 1920s chic – all walnut, marquetry and gleaning chrome, with a bench seat which changes into bunk beds at night. We dressed in our formal clothes – which was a bit of a challenge in a very cramped moving cabin – but we managed it. Then we went for drinks in the bar – a uniformed waiter brought us gin and tonics, home made canapes and some of the biggest olives I've ever seen, while a pianist played jazz on a baby grand.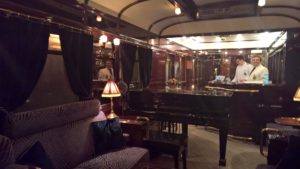 Everyone was dressed up, the men largely in black tie and the women in evening dresses. I seemed to be the only one who was fully 1920s themed – and a man actually came over to tell me I looked "absolutely superb" – quite a compliment.
Then we had dinner in one of the three beautifully appointed restaurant cars. We were seated with another couple who also worked in IT but lived in London – and exchanged a load of stories about 'how the other half lives' – they were pretty amused to hear about our lack of fast Internet and mobile data, but very impressed by our views and wildlife. The food, service and general ambiance was superb. We started with half a lobster, seafood ravoli and caviar, then we had a "reimagined" beef wellington which was perfectly cooked, a fantastic cheese board and a mocha desert, followed with petit fours and coffee. All washed down with a nice (and very expensive) bottle of wine.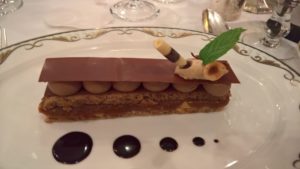 When we finally got back to our cabin, it had been transformed into a comfy bedroom with bunk beds, dressing gowns and slippers.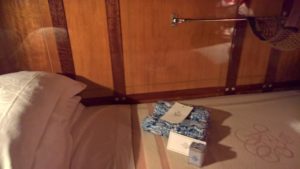 I was glad to take the (rather uncomfortable by now) formal clothes off and collapse into sleep. Unlike on the Caledonia sleeper, the beds were very comfortable and I actually had a reasonable night's sleep.