Oct 18th, 2016
Author:
donich_admin
We had a lovely day at V's wedding. It was actually in her and her partner's (I can say husband now!) new home which made it a lot more intimate than the registrar's office where R and I had ours.
Below is Bella the springer spaniel who is super cute and carries a soft toy duck around in her mouth all day.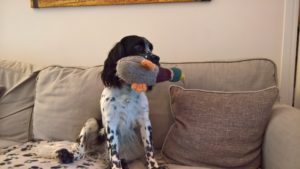 We had a nice buffet meal and then played Settlers of Catan which I didn't win (neither did R – we were both whupped by an eight year old).
These are the cakes I made which went down really well.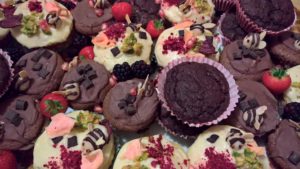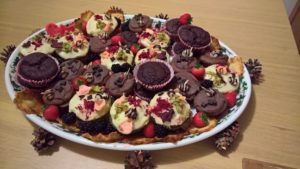 The pale ones were courtesy of Frances Quinn's Midsummer Wedding Cake which won the bake off a few years ago.  The cake was a vegan variant of her "sunshine cake" (recipe here http://www.bbc.co.uk/food/recipes/midsummer_dream_wedding_07048 ) omitting the eggs and adding an extra tsp of baking powder and a little cider vinegar.  The edible decorations were all made to her instructions including the edible confetti and marzipan bees (if you look closely there is a queen and king bee with gold wings sitting on a marzipan flower at the edge of the plate).  The icing was a lemon buttercream made with vegan margarine.
The iced chocolate cakes were a cupcake version of Mary Berry's black forest gateau only made with raspberries instead of cherries – this is R and my favourite cake.
Most interesting are the non-iced ones.  These are a very low carb cake which is a variation on a Nigella Lawson one.  I made half quantities which made 10 largish cupcakes.
Boil a medium orange in its skin for about half an hour until soft.  Blitz to a pulp in a food processor.  Add three eggs, 1tsp baking powder, 1tsp bicarb, 40g Truvia, 50g dark cocoa powder and 130g ground almonds to the orange and mix in the food processor until smooth.  Spoon into cupcake cases and bake at 160C fan for around half an hour until a knife inserted comes out clean.  These are around 8% carbohydrate – they aren't tremendously sweet and are rather denser than an ordinary cake but taste lovely – just like a chocolate orange.
Now what I would like to make would be a vegan low carb cake but I am not sure that is possible – I'll remain open to any ideas…