Sep 25th, 2016
Author:
donich_admin
This was our last day – and I had saved what I thought would be the best for last with a trip down the Appia Antica (the ancient Appian way which is the only still existing road to be mentioned in the Bible). We would take a picnic and meander down the ancient roadway, littered with tombs and monuments, stopping off to visit a catacomb or two. And as it was Sunday the road would be closed to traffic.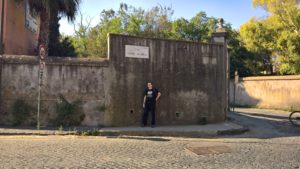 This was a misapprehension on many levels. Most importantly, it may have been "supposed" to be closed to traffic, but in fact the Italians weren't taking any notice of that as a concept. As the road is narrow and runs between two high walls, it was taking your life in your hands to walk down it, and with cars and motorbikes whistling past at great speed it was no pleasure at all. We walked, and walked and walked in the baking heat, hoping things would improve – they didn't.
About 1pm we got to the catacombs we had been going to visit to find they were closed. With true British grit, we toiled on in the sun to the final bus destination, the tomb of a Roman matron which looked impressive from the outside but was distinctly underwhelming from the inside.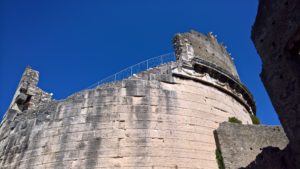 So we set off back. Afterwards I discovered that further on from here was the good part, and that the traffic calmed down a lot. But we had had enough of it…
We stopped at a Trattoria and had lunch – there was a very cute little dog at the next table.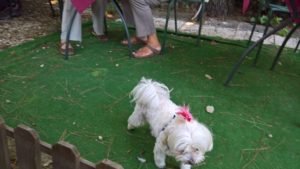 Then we walked all the way back over Rome in the heat. By the time we got to the Irish pub I was seriously dehydrated and drank a whole pint of water straight down (followed by a pint of beer straight down too!).
We said goodbye to the cats and went home to pack. A rather disappointing last day but you can't win them all I suppose.