Sep 22nd, 2016
Author:
donich_admin
Actually that title is not very accurate as of course Rome is in Italy and the Vatican is in, well, the Vatican. Actually our apartment was so close to the border that if I had pushed J off the terrace it would have been a toss up between being put in prison or burned at the stake…
We had been havering over what to do about the Vatican as the queues are particularly long and horrible – when R and I were there previously we had to queue for nearly two hours, and when we finally did get in the Sistine Chapel was so mobbed you couldn't see a thing (or hear a thing for the guards yelling "Silence" and "No Photo"). So little as I like guided tours, J and I opted for an early hours "beat the crowds" tour. Actually it was a big success; we were in by 7:45am – and although there were not "no crowds" they were sizably reduced and we got to see the Sistine chapel in all its restored glory (I thought it was a big improvement on the pre-restored version even though some art critics are not impressed) without too many other people.
We did get whisked round at a pace, but to be honest, neither of us minded that as we are not that interested in paintings. My favourite bit of the Vatican Museums is the wonderful map gallery.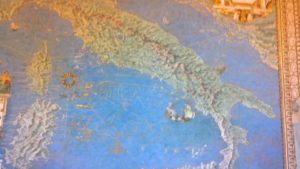 We also saw St Peter's which is very impressive but far from my favourite church. We didn't go up to the dome after my experience trying to get J to go up the bell tower in Bruges.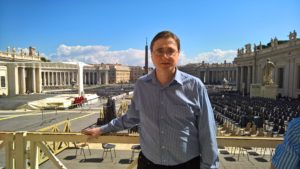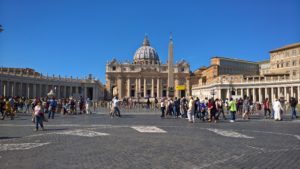 We nipped back to the flat for lunch and then in the afternoon walked back into centre Rome to look at the Capitoline museums. It took us quite some time to find them and then there was another tortuous queue for tickets and yet another metal detector. But once we got in they were nearly empty and very cool – we saw the (now sadly controversial) Capitoline Wolf.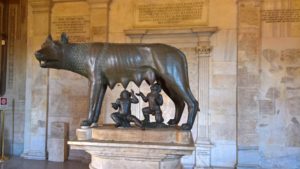 I liked this statue as well – somehow it reminds me of Schrodi….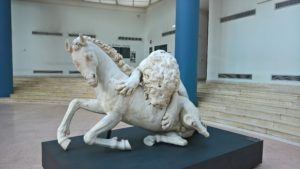 This is me walking in the footsteps of Mary Beard.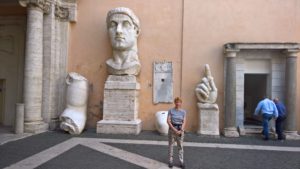 We fed the cats at the sanctuary on the way home again. Another exhausting day.