Sep 20th, 2016
Author:
donich_admin
This was our first full day in Rome and the idea was to see as much of Rome as we could – with a focus on the ancient sites as that is what J and I are most interested in. Even the drain covers have a theme here!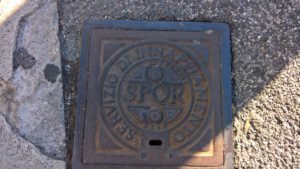 We walked over from our apartment (near the Vatican) to the Palatine Hill, making several detours on the way to try to buy the Archaeology Card mentioned in the guide book which would give us entry into the main sites without having to queue up. This was not an easy task as the first few places we tried either didn't sell it or hadn't even heard of it. The main tourist office in Piazza Navoni were in the latter category – and the assistant didn't even speak English. Now I don't want to come over all imperial here – but would you really employ someone who didn't speak English in a tourist office in one of the most touristy cities in the world? Anyway – we managed to buy the card by dint of visiting a museum we didn't even have on our list.
Goes to show – because the museum was great – in a converted Palace with lots of beautiful Roman statues and hardly any other people.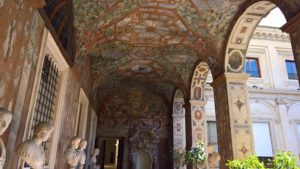 We had a quick (and nice) pizza – unfortunately mine was ham and had the side effect of making me terribly thirsty all afternoon.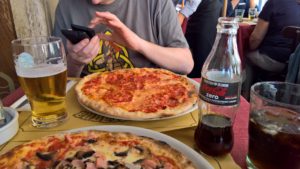 Then we took our card to the Ancient Roman ruins around the Palatine and Capitoline hills – of course after all the hassle getting the card it was the very hottest part of the day and there wasn't much of a queue anyway. The ruins were good – but not as atmospheric as when R and I had visited in 2000 because we had come early in the morning when there was no one about (you can see this is a recurrent theme with me).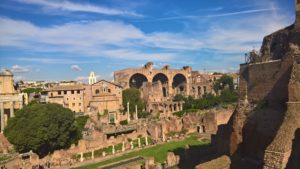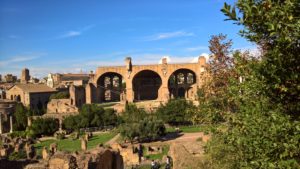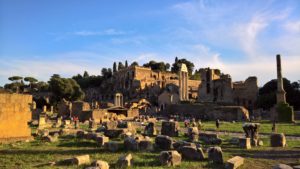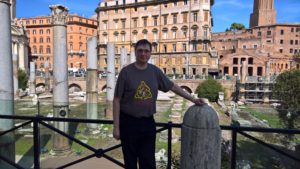 By the time we got half way back we were exhausted. We found an Irish pub which was cool and sold Hoegarten in enormous glasses (Belgian beer in an Irish pub in Italy – go figure). This became a real favourite of ours and we had a beer here on our way home nearly every day.