Sep 11th, 2016
Author:
donich_admin
My sister-in-law V is getting married next month and I have volunteered to make the wedding cake. This is a bit of a challenge, because not only is V a vegan, but her fiancé A doesn't eat carbohydrate.
Try as I might, I cannot create anything which has any resemblance to a proper cake and is both vegan and low-carb. So I have decided to make a two tier (possibly three tier) cake, and make one tier vegan and one tier low-carb. I tried out the recipes for both of these and they have turned out pretty well.
For the overall look of the cake I am trying to duplicate the one Frances Quinn did for the Bake-Off a couple of years ago (recipe here – http://francesquinn.co.uk/midsummer-nights-dream-cake/). In my opinion she is the best baker ever to have been on the show. Anyway I took the sunshine cake she made for the top tier and veganized it by removing the eggs. In their place I added an extra tsp of bicarb, and made my own self-raising flour by adding baking powder to strong bread flour – instead of ordinary plain flour. I read somewhere that the gluten in the strong flour creates a structure for the rising agents to use to hold the cake up in place of the eggs. I also added some vegan milk to get the consistency right – I also read that vegan cakes should be more sloppy than ordinary ones to help the rise. Anyway – it seemed to rise reasonably well.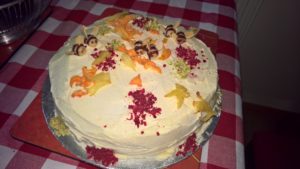 I decorated it with some of the brilliant ideas from the original cake, although I didn't have a fresh pineapple to make the flowers with. I also had a bit of difficulty with my bees as I made them a bit small and was then rather impatient about leaving the chocolate to dry so I smudged them rather. I will do better when I make the real thing. For the icing – I covered the cake in a thin layer of marzipan and then iced with vegan lemon buttercream – frankly I don't like this myself and I peeled it off before I sampled it. I would rather have used either a lemon curd or a mascarpone cheese frosting myself – but unfortunately not very vegan.
So for the low carb layer I found a Nigella Lawson recipe for a flourless chocolate orange cake – http://www.food.com/recipe/nigella-lawson-flourless-chocolate-orange-cake-303266 This one I did need to adapt as it has sugar in it. So I removed the sugar and added one third the amount of Truvia (stevia based sweetener with no carbs which is three times sweeter than sugar). This left a deficit in bulk for what would have been filled by the rest of the sugar, so I filled this with one third extra ground almonds, and one third extra cocoa. I also added a bit more baking powder and the juice of a lemon to help the rise. It definitely took a bit less time to bake than it says in the recipe – I would be watching it from about half an hour and getting ready to cover the top.
Anyway, it didn't have a huge rise but it certainly smelt good cooking. Then for a low carb icing I adapted a recipe from the Truvia site here – https://www.truvia.co.uk/recipes/blueberry-lemon-cupcakes I took the coconut milk and instead of the lemon I added some melted dark chocolate. Then I sweetened with Truvia and thickened with cornflour.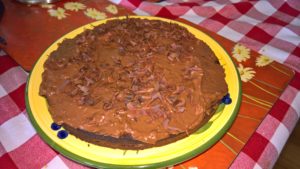 I'm not a big chocolate fan – but to me this was very nice – quite dense compared with an ordinary cake but not too sweet and with a great orange taste. R is a great chocolate fan but I get the sense that he is not admitting that he found this cake not sweet enough and didn't like the orange flavour. Anyway – it is about the best I can do within the remit I've been given.