Aug 14th, 2016
Author:
donich_admin
In the rather turgid "A la Recherche du Temps Perdu" by Proust, the narrator dips a madeleine into a cup of tea and the smell and taste bring back a vivid memory of his childhood. I had a similar experience with a pie the other day (luckily it only has inspired me to write a couple of paragraphs rather than a 1000 page epic). I made it out of some of the new plums and a box of brambles I had frozen last year and wanted to clear out before I pick some more this year. It tasted lovely, and it brought back to me suddenly my first ever day on the hills..
I must have been about seven or eight and my Dad took me to climb Cat Bells, which if you know your Beatrix Potter, is the hill where Mrs Tiggy-Winkle lived. We went across Derwent Water from Keswick, climbed up to the 450m summit and had lunch there while I looked for the 'little door' in the back of the hill (I didn't find it). The point I am getting to is that my Mum had baked bramble pies, and the one I made, suddenly reminded me of those, and of a lovely day I had in my childhood.
Here are some of the pies I made – I must report that there was not a soggy bottom amongst them.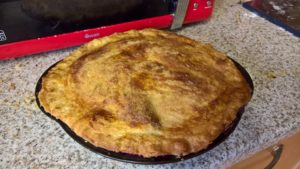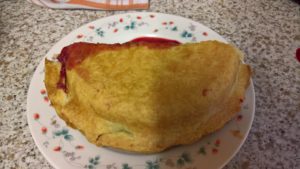 I also made a swiss roll and tried piping a pattern into it like they did on the bake off. It turned out nice looking (though I am not sure that what was supposed to look like flowers and vines didn't more resemble tentacles) and tasted good too.