Aug 7th, 2016
Author:
donich_admin
I made J a birthday cake – this was what the lemon curd was for, but I didn't want to say in my article before because he reads this blog and I wanted the cake to be a surprise.
J is a big fan of Qonqr – which is a location based mobile phone wargame (a bit like Ingress, but for WP) – so this year I made him a Qonqr cake. It was very purple because those are the faction colours for the Faceless which are the faction J belongs to (you have to play the game to really understand what I am going on about here).
So this is (was actually because we ate most of it) the cake.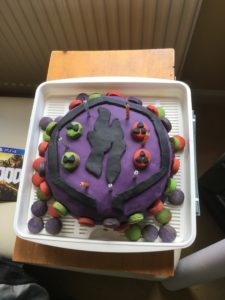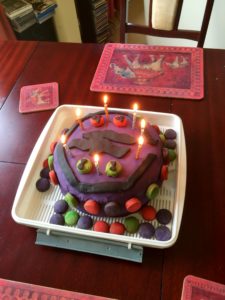 Actually, underneath that horrid purple icing was a nice cake. It was a variation on Mary Berry's "Whole Lemon" cake – basically a Victoria sponge with the addition of a lemon which had been boiled (yes really) for 20 minutes and then pulped in a food processor. It was then cut into four layers, each liberally coated with the home made lemon curd and a cream filling made with mascarpone cheese beaten up with lemon juice, zest and a little icing sugar. Whether credit is due to Mary, my new Stoves range, or my culinary genius, it was pretty good; moist and not too sweet.
It must have had a billion calories in it – so poor J was forced to take the remnants home to finish them off so that I wasn't tempted 🙂