Jul 3rd, 2016
Author:
donich_admin
I was delighted to hear that Cnoc Coinnich (Gaelic for "Mossy Knoll")has been promoted to be a Corbett. It used to be the highest of the Grahams but has recently been resurveyed and found to be 762.5m rather than its previous 761m, and this tips it into the range of Corbetts. Regardless, it is a great climb just outside Lochgoilhead and has some of my favourite views. I've attached a GPX route that I made of it the other night in case anyone is inspired to climb our new Corbett, and here is the map.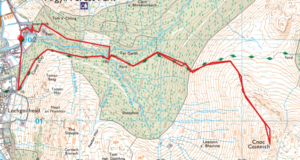 The full article is here – Walk Highlands Website
These are some pictures from when I last climbed it a few weeks ago – it took me a little less than four hours.