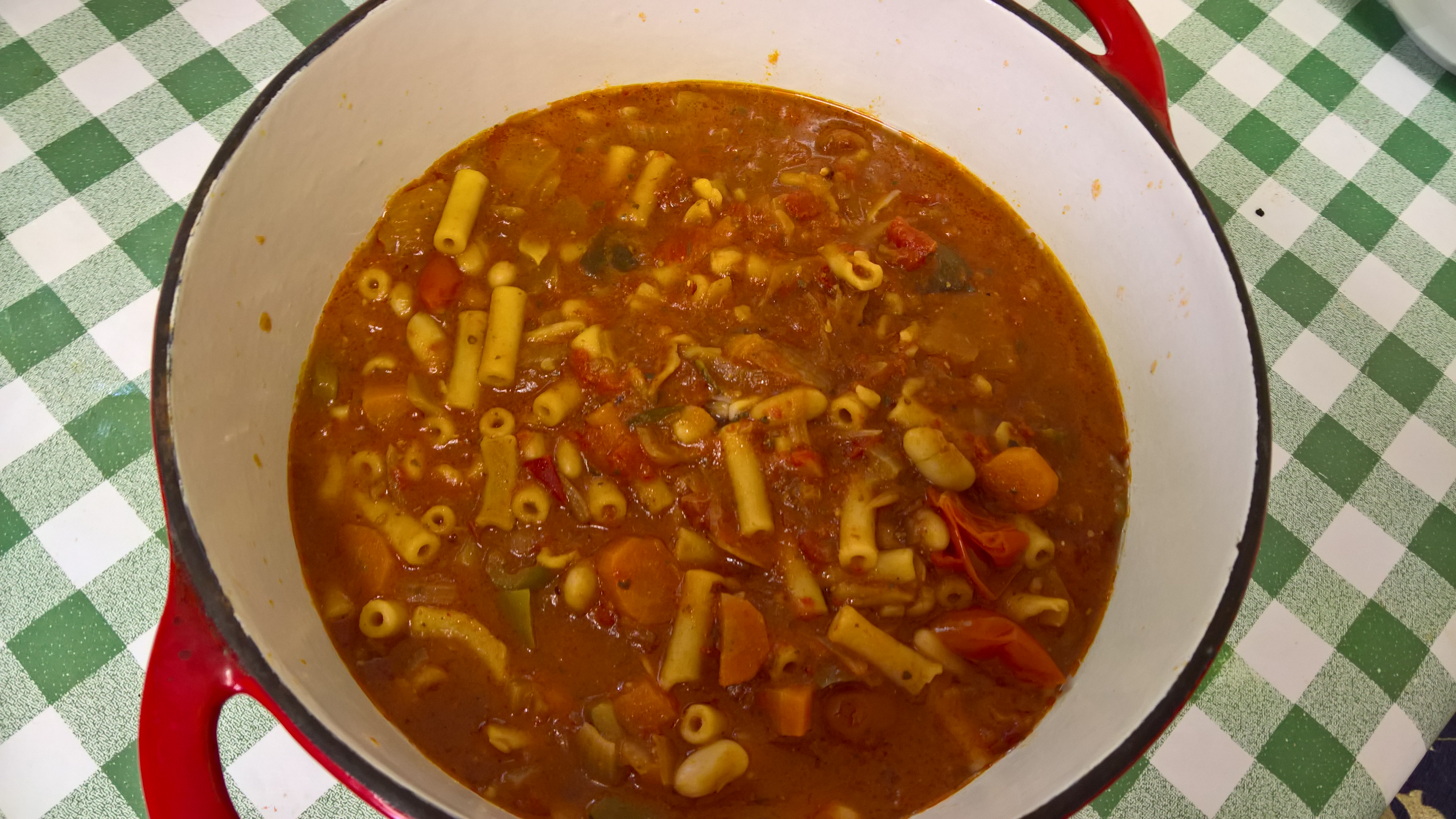 Jun 10th, 2016
Author:
donich_admin
This is a 'sort of' minestrone which I make sometimes if I don't have the right vegetables for one of my usual soups.
Fry two medium onions and a sweet pepper in a little olive oil. When soft, add a couple of cloves of finely chopped garlic and fry a bit more. Then add a few roughly chopped carrots and some slice celery sticks and turn over in the oil a bit more. Add a can of chopped plum tomatoes and another can of ratatouille (this may sound strange but it is a quick way of getting lots of different Mediterranean tastes in without spending hours chopping vegetables). Then mix in about 500ml veg stock and simmer for 10 mins or so.
Add some macaroni (I suppose about 100g) and a can of cannelloni or broad beans and simmer gently until the pasta is well cooked. Finally add a jar of pesto (green or red). Can be served with grated parmesan and some torn basil leaves.
I serve this with some olive rolls, which are the easiest thing to make in the world. I put a white bread mix in the bread maker with a couple of handfuls of olives, finely chopped and thoroughly dried with a paper towel and then add the amount of water recommended. I then put the breadmaker on the 'pizza dough' setting – which on my machine is only 45 minutes. At the end of that, it is part risen, so I empty the dough out on to a board well greased with olive oil, divide into eight rolls and prove again in a warm place (covered with a tea-towel) for about an hour. Heat the oven to 220C and then brush the rolls with milk and sprinkle with whatever nice seeds you have going. They should be ready in 15 to 20 minutes.
All pretty good, easy to make and cheap. Not vegan unless you use special pesto sauce, but I tried it the other day with a vegan pesto Asda are now selling and it was just as good as the one with the cheese.